Scriptless DevOps for IBM WebSphere (IIB, WAS, & MQ)
CrossVista TEAM Server for IBM WebSphere will improve the efficiency of your WebSphere development and operations teams. You will be able to manage all changes to your WebSphere IIB, WAS, and MQ projects and all changes will be tracked within the context of an overall Project Baseline. The Scriptless DevOps Engine within CrossVista TEAM Server includes support for managing all changes (code and/or configuration) for your end-to-end WebSphere DevOps Lifecycle.
In addition to managing all aspects of your WebSphere Projects, CrossVista also offers several IBM-specific "out-of-box" extensions to your DevOps processes.
IBM Rational Test Workbench Integration
CrossVista provides an out-of-box integration to Rational Test Workbench (formerly GreenHat). CrossVista's TEAM Server includes an out-of-box Workflow for integrating testing into your DevOps process regardless of your development methodology. CrossVista's DevOps Workflows can be used to support multiple development methodologies including Continuous Integration, Waterfall, Agile, etc.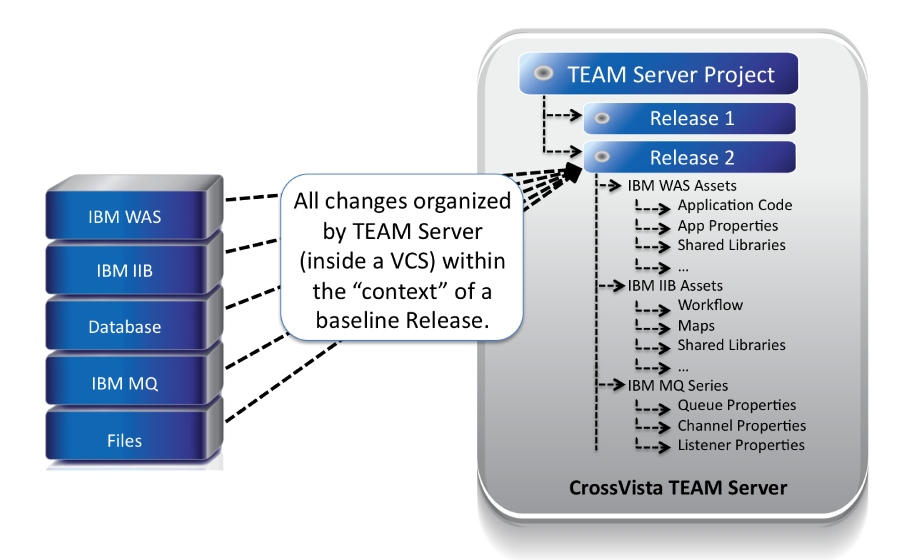 Complement IBM UrbanCode
Extend your existing IBM UrbanCode processes via CrossVista's robust API to incorporate CrossVista TEAM Server's "Scriptless" support for IIB, WAS, and MQ into your UrbanCode processes… OR… extend CrossVista's TEAM Server's DevOps processes to incorporate IBM UrbanCode.
Comprehensive Support for IBM VCS and Ticketing Tools
CrossVista TEAM Server offers broad support for several ticket management and version control solutions including IBM's offerings. For ticketing, CrossVista TEAM Server can leverage IBM ClearQuest or Rational Team Concert. For version control, CrossVista TEAM Server can store assets in IBM ClearCase and Rational Team Concert.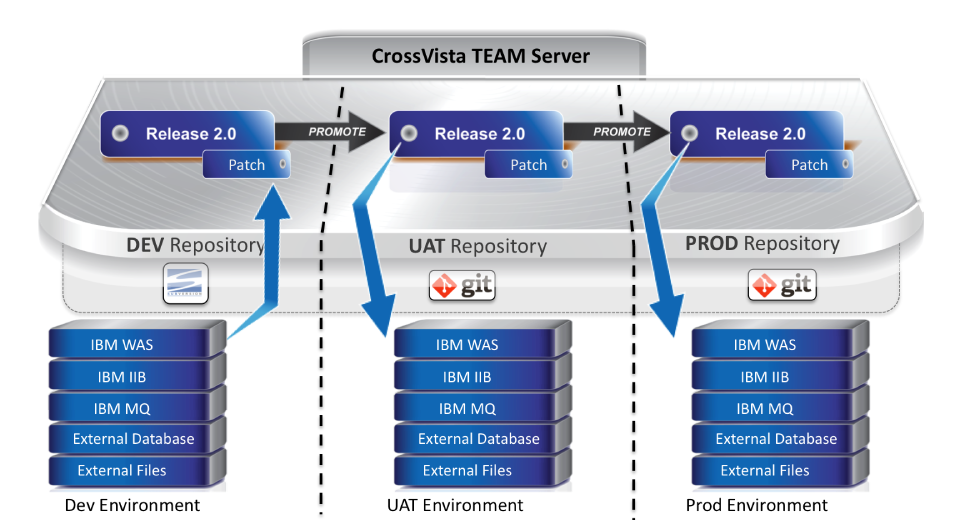 By bundling together the functions of Version Control, Change, Configuration, and Release Management, CrossVista TEAM Server provides one solution for managing your end-to-end DevOps lifecycle for enterprise applications.
Please contact MakeItEasy@crossvista.com for more information.