Scriptless DevOps for SoftwareAG webMethods
CrossVista TEAM Server for webMethods will improve the efficiency of your webMethods development and operations teams. You will be able to manage all changes to your webMethods projects and all changes will be tracked within the context of a webMethods Project Baseline. The Scriptless DevOps Engine within CrossVista TEAM Server includes support for managing all changes (code and/or configuration) for your end-to-end webMethods DevOps Lifecycle. This includes support for webMethods Integration Server, webMethods Broker, webMethods Trading Networks, webMethods Optimize, MyWebMethods, CentraSite ActiveSOA as well as external files and database assets.
In addition to managing all aspects of your webMethods Projects, CrossVista also offers several sample "out-of-box" extensions to your DevOps processes.
Automated Testing
CrossVista offers multiple out-of-box TEAM Server workflows (GCS Test Tool, IBM GreenHat) that users can easily implement themselves or use as a framework for integrating with other test platforms. These Workflows can be used to support multiple development methodologies including Continuous Integration, Waterfall, Agile, etc.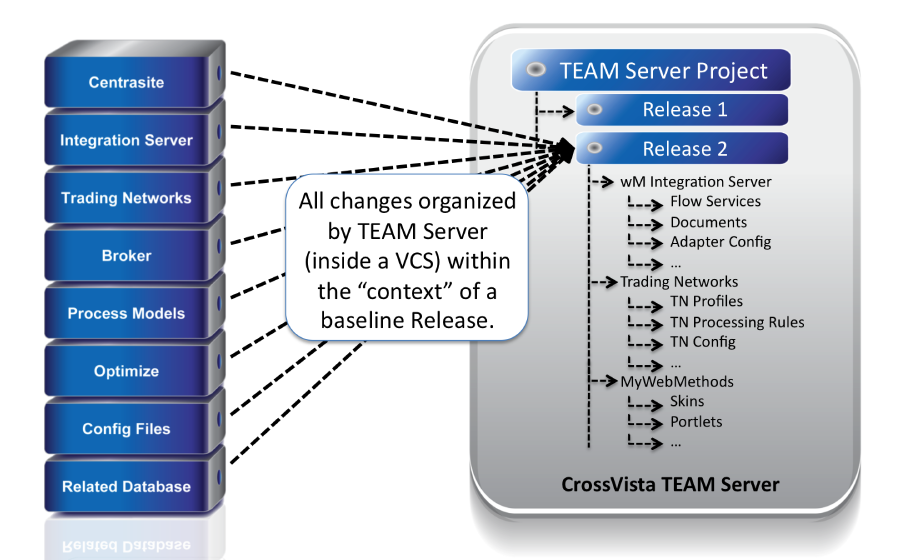 Portfolio Management

SoftwareAG's Portfolio Management solution, Alfabet, can provide incredible value for organizations. However, ensuring the data within a Portfolio Management solution can be a challenge. CrossVista TEAM Server's end-to-end DevOps Workflow can be integrated to automatically load project data into Aflabet. No need to manually load your webMethods project data.
Governance
One of the major challenges with any Governance registry/repository is ensuring that it is always up to date. CrossVista TEAM Server configured a customizable TEAM Server Workflow that can automatically update CentraSite ActiveSOA as part of a managed end-to-end DevOps Process.
By bundling together the functions of Version Control, Change, Configuration, and Release Management, CrossVista TEAM Server provides one solution for managing your end-to-end DevOps lifecycle for enterprise applications.
Please contact MakeItEasy@crossvista.com for more information.